Title:
Secrets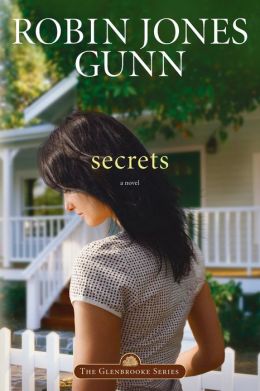 Author:
Robin Jones Gunn
Genre:
Fiction - Contemporary Women
Pages:
288
My Rating:
3.5
☆
Synopsis:
Jessica ran from her past...But can she hide from love?
Jessica Morgan (or Jessica Fenton as the citizens of Glenbrooke know her) is a twenty five year old runaway with a complicated past. In an attempt to escape her old ghosts, she seeks refuge in a small town in Oregon where she has landed a job as a high school English teacher.
However, her plans are derailed when her car spins out of control and down a bank on the way to her new home. She is discovered by a sturdy firefighter, Kyle Buchanan, whom Jessica regrettably finds all too attractive.
As her life is turned upside down and inside out, Kyle sticks by Jessica's side, softening her heart to love and to the God who created it.
What I Liked:
I'm a sucker for a good God-driven romance. And this book definitely had plenty of that to offer. Kyle was a wonderful example of a modern-day man of God. He shows Jessica, and everyone else around him, unconditional
Agape
love.
This book also provides a generous amount of encouragement for anyone who is struggling with personal issues, be it relationships or a sordid past; Robin Jones Gunn does a wonderful job of relaying the message of God's love and acceptance to the broken and beaten-down.
What I Wasn't So Fond Of:
I felt like the beginning of the story (Jessica's arrival and first few days in Glenbrooke) was dragged out a bit unnecessarily, and likewise, the ending portion of the book was rushed. I would have liked to have seen Jessica and Kyle's relationship develop more in-depth.
Also,
*minor spoilers*
I was a bit disappointed in Jessica's secret. The author led us to believe in the beginning of the story that Jessica was hiding a dark past, but I didn't find that to necessarily be the case.
Overall, I truly enjoyed reading
Robin Jones Gunn's
novel
Secrets
, and I am absolutely looking forward to reading the rest of the Glenbrooke Series!
About The Author
Robin Jones Gunn is the best selling Christian author of over 82 books including several series aimed at teen girls as well as Christian fiction for older women and a few non-fiction books. Her books have sold over 4.5 million copies worldwide.
In addition to teen fiction, Robin is known for her women's Christian romance series "Glenbrooke" and the "Sisterchicks" series.
*author bio taken from Wikipedia
1//2
*I received this book for free from WaterBrook Multnomah Publishing Group as part of their Blogging for Books program. I was not required to write a positive review. The opinions I have expressed are my own. I am disclosing this in accordance with the Federal Trade Commission's 16 CFR, Part 255