Title:
Wishing On Willows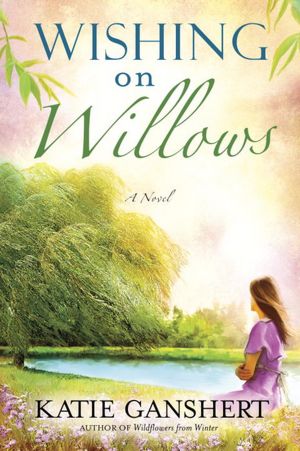 Author:
Katie Ganshert
Genre: Fiction - Christian Romance
Synopsis:
Does a second chance at life and love always involve surrender?
(
From the publisher
) "A three-year old son, a struggling cafe, and fading memories are all Robin Price has left of her late husband. As the proud owner of Willow Tree Cafe in small town Peaks, Iowa, she pours her heart into every muffin she bakes and espresso she pours, thankful for the sense of purpose and community the work provides.
So when developer Ian McKay shows up in Peaks with plans to build condos where her cafe and a vital town ministry are located, she isn't about to let go without a fight.
As stubborn as he is handsome, Ian won't give up so easily. His family's business depends on his success in Peaks. But as Ian pushes to seal the deal, he wonders if he has met his match. Robin's gracious spirit threatens to undo his resolve, especially when he discovers the beautiful widow harbors a grief that resonates with his own.
With polarized opinions forming all over town, business becomes unavoidably personal and Robin and Ian must decide whether to cling to the familiar or surrender their plans to the God of Second Chances."
What I Loved:
Katie Ganshert is one of my absolute favorite authors, because I simply adore her down-to-earth and raw style of writing.
I was quite fond of the electrically witty chemistry between Robin and Ian. Robin is determined not to let him into her heart and her town, but he always seems to find a way to work his way in.
The characters were so believable with the way they interacted with one another, and the inner thoughts of each person provided in the book were incredibly realistic.
What I Wasn't So Fond Of:
There was literally
nothing
that I didn't love about this book!
About The Author
(From the author): I'm a slightly-frazzled, ever-inquisitive Midwest gal who's passionate about Jesus, my family, writing, and all things romance, which is exactly what I write. Stories about flawed, broken characters who find faith and fall in love. When I'm not plotting ways to get my hero and heroine to cross paths, I enjoy watching movies with my hunk of a husband, playing make-believe with my wild-child of a son, hanging out with the crazy but lovable junior high students at my church, and chatting with my girlfriends at Panera®. I could talk books all day and am often spotted around town pushing a stroller, walking my dog, and reading—all at the same time.
*I received this book for free from WaterBrook Multnomah Publishing Group as part of their Blogging for Books program. I was not required to write a positive review. The opinions I have expressed are my own. I am disclosing this in accordance with the Federal Trade Commission's 16 CFR, Part 255